I've been using the Flighty App over the last 12 months while travelling. It is now my favourite flight tracking app. I thought I'd write a review of the Flighty App. If you're thinking about buying the Flighty app hopefully this will make that decision easier.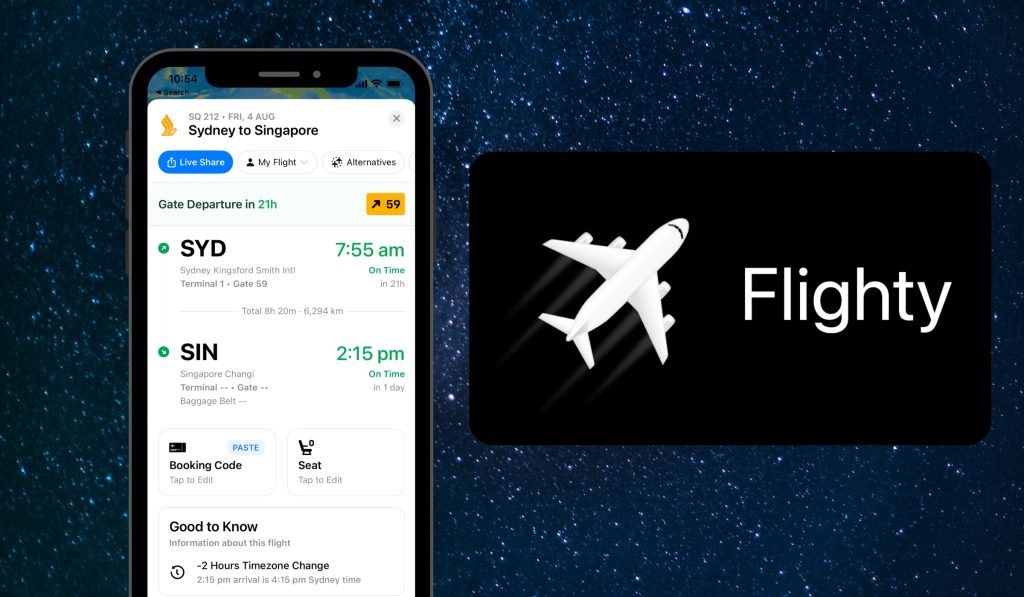 What is the Flighty App
Flighty is a popular flight tracking app on iOS. It's mainly used to keep you updated on the status of your flight. You'll get instant notifications when something changes and it will help you predict and monitor delays.
Features
The Flighty App has a ton of features. Once you've added a flight you'll see details on the Gate, inbound plane etc. You can also add details like the Booking Code and your Seat which is always handy to have quick access to.
When you add multiple flights with connections you'll also get a really nice, clear overview of how much time you have between flights and if there is a terminal change.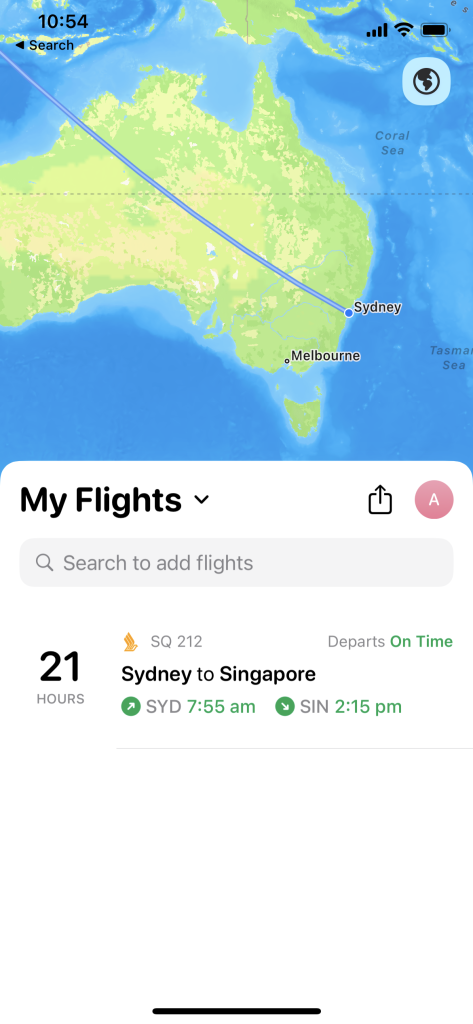 Flight Change Notifications
The most useful feature for most travellers will be the flight notifications. Flighty can let you know if there is a delay on a flight and change to the schedule. Flighty tracks the inbound plane and gives you this information. So you'll know if the inbound flight hasn't arrived. You'll often know of a delay before the airline tells you.
If you have a connecting flight, you'll receive a notification when you land with details on your next flight including terminal info and how long you have.
Another little handy notification you'll get is baggage claim details. While I've found this doesn't appear for all airports when it does, it really is handy if you've got checked baggage. You'll know exactly where to go.
Gate Change Notifications
Flighty will let you know if there has been a gate change notification. I usually receive this notification well before you get the message over the P.A in an airport.
In Flight Tracking
Flighty works in Airplane mode while you're on the flight. Flighty works with Live Activities and if you have a new iPhone it works with the dynamic island. The Live Activity will show you your upcoming flight details on the Lock Screen. And this Live Activity will keep tracking while you're on the flight. It will give you an ETA of when the flight will arrive. I've really liked this feature on long-haul flights. I can just glance over at my phone to see how much longer the flight has.
Share Flights
I like to share my flights with my partner and family. This is especially useful if they're picking you up from the airport. You can generate a link to share with friends and family which will give them a live flight tracker. If they have the Flighty app the flight will get added to the app as a "friends flight" and they can track it within the app.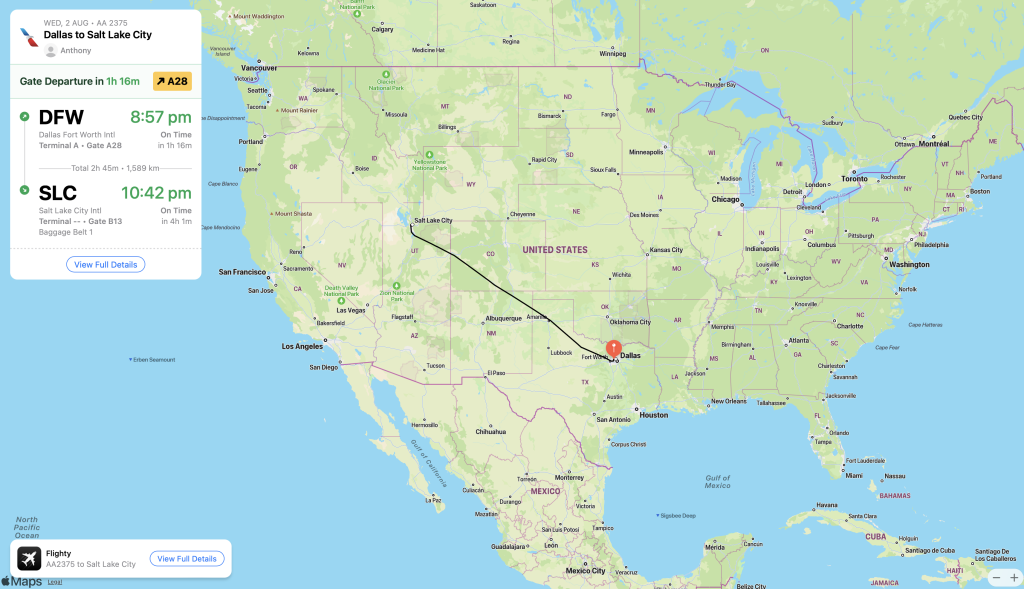 Track Friends Flights
You can add your Friend's and family's flights to the app. These show up in a seperate view to your flights so there is no confusion. Flighty has also just launched a new feature where you can add friends to the app. And then whenever they fly and add flights to Flighty, you'll see them automatically. This is great for families. This feature is free and doesn't need a pro subscription. You'll never need the "send me your flight details" message ever again!
Flight History
Flighty gives you your Flighty Passport which has all the flights you've taken in the past. You can even install a widget which will show you random details like the oldest plane you've flown on, the longest you've flown and how many hours in total you've flown. While these details aren't essential, I like to keep track of this stuff.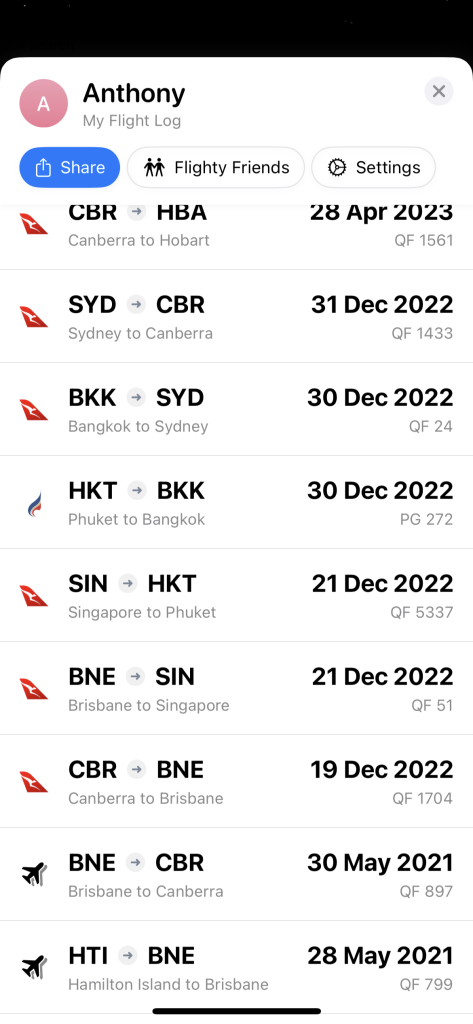 Is the Flighty App Accurate?
Flighty is incredibly accurate. While waiting for a Qantas flight in Australia, I received an instant gate change notification that was around 10 minutes before I got the notification from the Qantas app. I have found that the delay notifications have also been very accurate and fast.
I no longer rely on SMS notifications which I've often received after I've landed!! Flighty notifications appear to be instant and show up before any messages in the air port.
Does Flighty Work in Australia
I've been testing Flighty in Australia and on international flights. Flighty works really well in Australia and there is no difference between domestic and international flights. The notifications for gate changes and delays worked.
I think you possibly get more details such as airport flight radar in the U.S. But I didn't feel like I was missing out on anything. While some flight tracking apps only really work in the U.S, I've found that Flighty works equally well no matter where I've travelled.
How Much Does the Flighty App Cost
In Australia the Flighty App currently costs $78.99 per year. There is a family plan for $129.99 and a monthly plan for $9.99. If you only fly occasionally but want the instant notifications and the other useful pro features, you can subscribe to a weekly plan for just $5.99 and cancel it when you're not flying.
And then finally if you're a frequent flyer, I'd encourage you to look at the lifetime plan for $399. Yes it's expensive but you won't need to worry about subscriptions.
Why is Flighty App so Expensive
Flighty provides pilot grade alerts for delays and changes to your flight. Flighty's main selling point is its reliability and speed. You'll often receive a notification well before an SMS notification from an airline. You also get more information on incoming flights so you can predict delays.
If you aren't a frequent flyer you can pay just $5.99 for a weeks worth of Flighty Pro.
What Does Flighty Pro Include
Flighty Pro has:
The Industry's fastest push alerts
Where's my plane feature (will show you where your inbound plane is)
Live Lock Screen Widgets
Delay Predictions
Tripit Sync
Calendar Sync
Email Forwarding (forward your booking to automatically add the flight to flighty)
What Does the Free Version of Flighty Include
Flighty comes with a free version. It includes:
No ads!!
Add unlimited flights
Flighty Friends (add friends to automatically get their flight details)
Live flight data
Weather
Lock Screen Widgets with limited refresh
Personal Flight Log and Map
Is Flighty Worth Paying For: My Review
Flighty is a really nicely designed app. It's got nearly perfect ratings on the App Store. It's for good reason. If you're a frequent flyer then Flighty is definitely worth paying for. The notifications you get are accurate and fast. I've tried lots of different flight tracking apps. Flighty is the only one where I'm confident enough to trust the notifications.
I think Flighty definitely is worth it.