Aunt Betty is an online flight booking site. If you've ever searched for flights through Google Flights or another flight search engine, you may have seen Aunt Betty popup. Have you ever wondered if Aunt Betty is legit? Is it safe to book flights through Aunt Betty.
Here's my Aunt Betty review. I'm going to take you through the pros and cons of using a site like AuntBetty so you can make an informed choice next time you book flights.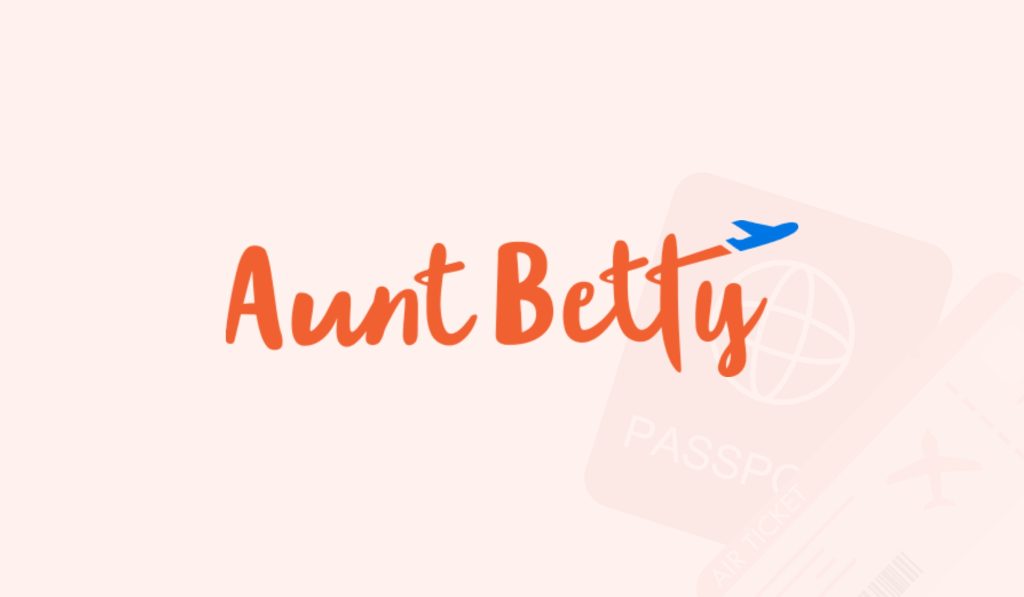 Is Aunt Betty Legit?
Aunt Betty is a legit travel booking site. However, that doesn't necessarily mean you should book through them. If you book a ticket through Aunt Betty, you will get a ticket, it is not a scam and it should be safe and secure to pay online through Aunt Betty.
Who Owns Aunt Betty
Aunt Betty is owned by Flight Centre. Aunt Betty is an Australian company. Flight Centre started to Aunt Betty in order to better compete with other online "low cost" booking sites like Cheers Travel. Unlike Flight Centre, Aunt Betty is 100% online and doesn't have any physical stores.
The Cons of Booking Through Aunt Betty
If you are booking a ticket through this low cost agent, make sure you understand the pros and cons:
Changes Need to Go through Aunt Betty
When you book with an airline, if changes to your booking need to be made you can just contact the airline. Changes to flights happen quite often (especially post covid) and I've found I'm increasingly needing to make changes to a booking so I don't miss connecting flights.
If you book through Aunt Betty you'll need to make all changes through Aunt Betty. If you booked through an airline, the airline will usually recognise if changes need to be made to a booking so you don't miss a connection. With Aunt Betty you will need to get in touch with them. If you try contacting the airline, they will tell you to call the agency.
You may also be liable to an additional Aunt Betty fee if changes do need to be made. It is not clear from the terms and conditions and their help docs whether a change fee will be charged if the Airline changes a flight and you need to rebook a connection. My guess is you will need to pay an additional fee.
Unlike some online travel agencies, Aunt Betty does have an online manage booking tool. So you might not need to contact support. You will still have to pay change fees through depending on your ticket.
Ticket Add Ons
Aunt Betty makes money by adding on additional (optional) fees for services and extras that most airlines offer for free. I've found that many "extras" charged by low cost booking sites can be really hard to claim and come with a bunch of extra conditions. While some of these extras may be worth it, make sure you read all the terms before paying. Some of the fees for things like getting an SMS notification of your booking for $5 is a bit of rip-off (this isn't sms notifications for flight changes, you can use an app like Flighty for that. This is just for receiving your booking number).
It should be noted all these fees are optional and the price displayed on Google Flights is available if you select no to all extras.

When searching for a flight to Singapore through Aunt Betty I would have also had to pay a fee to select a seat. If I had booked through the Singapore Airlines site I wouldn't have needed to pay a fee.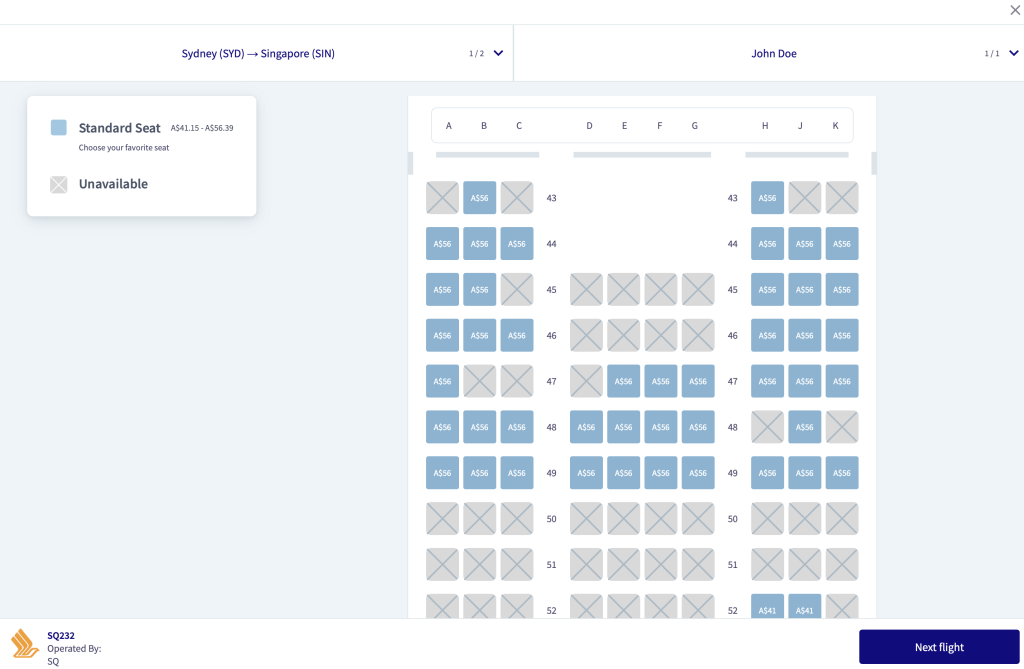 Tip – If you're getting international travel insurance (which you probably should if you're heading off on a holiday overseas) you will get extras like Baggage protection included with that (most likely, check with the individual policy). So don't buy it as part of the ticket on Aunt Betty. While booking travel insurance at the same time as buying a ticket can sometimes save you money, it's often not the cheapest option. It's best to search for that separately as well. An as always, make sure you read the terms and conditions to see what's included.
Limited Support
Aunt Betty offers limited support. When booking a ticket you are presented with an option to pay extra to get more support: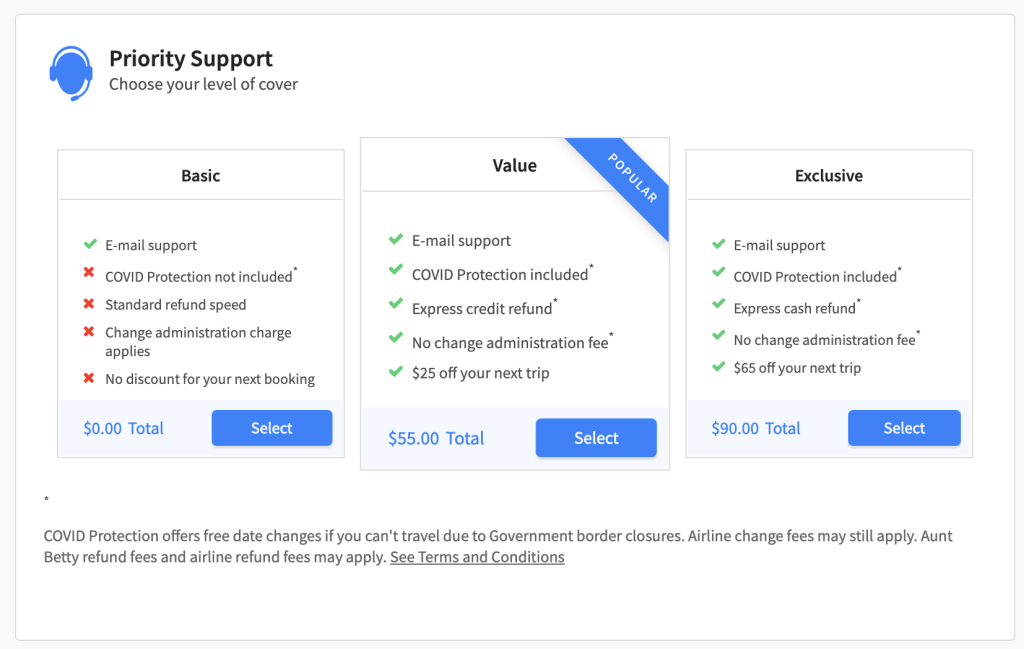 It's not entirely clear from this as to what priority support you get. They do give you extra credit for another booking. This graphic suggests you can only get email support, but Aunt Betty does have a call centre. We believe it is based out of India and is shared with BYOJet. It's not clear whether you only get email support and have to pay extra if you choose to call Aunt Betty. The upgraded ticket price means you won't need to pay a fee, if changes to your booking need to be made. But remember this doesn't mean your ticket is flexible and you will still need to pay airline fees as well.
I've never found Email Support to work well for travel bookings. It's often a lot of back and forth and by the time you figure things out, things have changed once again.
Extra Change Fees
If you need to make a change to your booking, like all airline tickets you will need to pay a fee. Some airline tickets allow changes but are usually hundreds of dollars more expensive. If you do need to change your booking on Aunt Betty you will pay the standard airline fee, and you will also need to pay the Aunt Betty fee.
In this scenario it most likely would have been cheaper to book direct with the airline.
The fees listed above are variable and will depend on your booking and the airline you booked with.
Pros of Booking with Aunt Betty
The only pro I came across booking with Aunt Betty was the fact they don't charge any credit card fees (for most cards in Australia). They do charge a 1% fee for PayPal bookings. Many airlines these days do charge credit card fees but they will usually offer a fee free option link bank deposit.
Should You Book with Aunt Betty
If Aunt Betty has the lowest ticket price and price is your absolute deciding factor, then it might be worth booking with Aunt Betty. Just be aware that if changes need to be made to your ticket you will be slugged with extra fees that you wouldn't need to pay if you booked through the airline.
Post Covid, my recommendation has always been to book directly with the airline. It's usually easier to make changes, especially if you have connecting flights, directly with the airline. Tickets booked through agents, require all changes to be made by the booking site. So you'll be stuck with Aunt Betty's support if you have issues.
Is Aunt Betty Really Low Cost?
For my booking to Singapore, I was actually able to find a cheaper price by booking directly through Singapore Airlines. I would also save money by not having to pay a seat selection fee like I did have to on Aunt Betty. So while some flights may be cheaper on Aunt Betty I wouldn't recommend searching directly on their site. Instead use Google Flights or another flight search engine which aggregates the prices from multiple booking sites as well as the Airlines.
Have you booked with Aunt Betty? I'm curious to hear what your experiences have been – both good and bad. Let me know in the comments.