Luxury Escapes is one of the most popular holiday booking sites in Australia. I've used Luxury Escapes in the past to book hotel and holiday packages. Here is my Luxury Escapes review for 2023: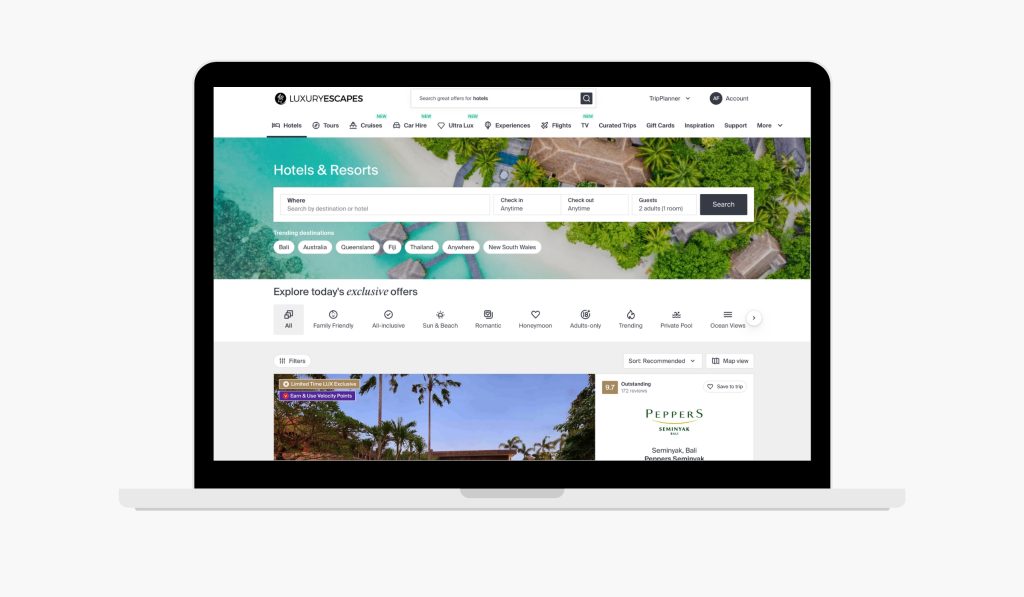 Pros and Cons of Booking with Luxury Escapes
Here are some of the pros and cons of booking through Luxury Escapes:
Exclusive Offers
Luxury Escapes has does offer exclusive deals that may not be available through other sites. Packages offer include extras like breakfast, drinks on arrival, late checkout etc.
However many of the offers are also available when you book directly with the hotel. So it's worth checking to see if you're getting the best package. Travel agents used to be able to get many more exclusive deals, but these days hotels try encourage people to book with them directly.
Some of the deals I was able to find by searching on the Hotels website, but others seemed to be exclusive to Luxury Escapes.
Earn and Use Velocity Points on Bookings
Luxury Escapes has a partnership with Velocity. For every $1 spent on Luxury Escapes you'll earn 1 Velocity reward point. You can also use Velocity Points to book holidays.
Luxury Escapes used to have a similar arrangement with Qantas Frequent Flyer but that was discontinued in 2023.
All In One Packages
One advantage of booking through Luxury Escapes is you can easily combine flights + hotels into the one booking. While you can do this through Airlines and other travel agents, I've found the booking engine on Luxury Escapes one of the easiest to use.
Good Customer Service
Online travel agents often have pretty terrible customer service. In my Aunt Betty review I noted how hard it can be to get support when booking through an online agent. However, that doesn't seem to be the case with Luxury Escapes. Although I haven't had to contact Luxury Escapes support, by all accounts they are very good.
Luxury Escapes does offer phone support and if you book through them you won't be left high and dry if something goes wrong.
Not Always the Cheapest Option
While Luxury Escapes tends to have very competitive Hotel rates, it might not always be the cheapest option. If you're looking to find the cheapest price I would always search direct with the hotel. Hotels tend to match what most booking sites offers. It doesn't hurt doing a search with the hotel and also using a travel aggregator like Google to see what other sites are offering.
You might not get the same package inclusions that are available on Luxury Escapes if you book elsewhere.
Flights Need to be Managed through LuxuryEscapes
One thing many people overlook when booking through an online agent is that all flights will need to be managed through Luxury Escapes and not through the airline. It does depend on the individual airline, but in most cases you won't be able to make changes by calling the airline or using the airlines website.
Because LuxuryEscapes does seem to have customer support this isn't going to be as much of an issue compared to using discount booking site which can be a real hassle when things need to be changed.
Not Everything is "Luxury"
While Luxury Escapes mainly offers deals for more upmarket Hotels, I wouldn't consider every listing on the site as a Luxury stay. Before booking a hotel, it's worth reading the reviews from different places. While there are booking sites that only curate deals from 5-star type properties, Luxury Escapes does offer a range of hotels, which I think is a good thing.
Luxury Escapes has an "Ultra Lux" classification which is used to describe what most people would refer to as a Luxury hotel.
Is Luxury Escapes Legit?
Yes, Luxury Escapes is a legit travel booking site. I've personally used them to book hotel packages before. While most of the time I tend to book direct with a hotel (to take maximum advantage of hotel loyalty points), if there is a good package on LuxuryEscapes I'm more than happy to book it.
Should You Book Through Luxury Escapes
If you can find a great package deal through Luxury Escapes then I think it's a pretty option for booking through. They have good customer support and they are definitely a legit travel agent. They've been around for quite a while and have a good reputation.
If you are looking to book on Luxury Escapes you can use my Luxury Escapes referral code to get $50 off.
Is Luxury Escapes Owned by Qantas?
Luxury Escapes is not owned by Qantas. Luxury Escapes had a partnership with Qantas where you could earn and use Qantas points on holiday packages. That deal came to an end in 2023 and Luxury Escapes offered a similar feature with Velocity Rewards.
Have you used Luxury Escapes to book holidays? I would love to hear about your experiences. Leave a comment below!