Qantas Frequent Flyer points can open a world of travel opportunities including flight upgrades, free trips, lounge access and more. But did you know there are ways you can earn Qantas Frequent Flyer points for free?
Here are the top free ways to earn Qantas Frequent Flyer Points for free:
Qantas Wellbeing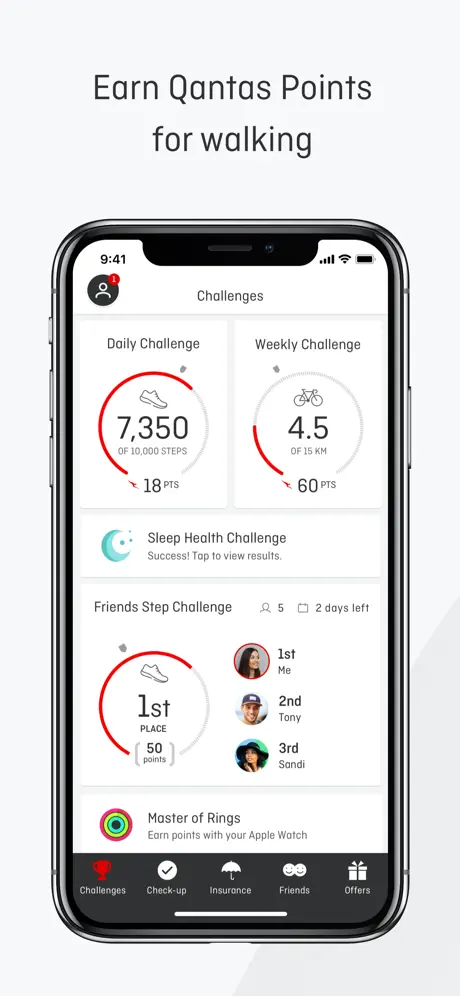 Many people don't realise that they can earn Qantas Frequent Flyer points every time they take a step! The Qantas Wellbeing App rewards you points for being active.
There are two tiers to the app. The free tier gives you a limited amount of points when you complete a daily and weekly step goal. If you are a customer of Qantas Health Insurance you get more points.
You can also earn points for completing various challenges such as "Sleep Health" which will reward you for having a good nights sleep.
The points really add up. Since I started using the Qantas Wellbeing app I've earned over 40k points. Although I am now a health insurance customer which unlocks additional points.
But it's well worth installing even if you don't have a Qantas Insurance Policy. You'll earn points in the background.
If you're not a huge Qantas Frequent Flyer user and have points expiring, one way to ensure they don't expire is to have the Wellbeing app installed. It will keep your account active.
Qantas Red Planet
Qantas runs a marketing research panel called Red Planet. Basically members get rewarded for completing surveys. This helps Qantas target their marketing efforts and understand their customers more.
Unfortunately membership to Red Planet is by invitation only. To get invited you'll need to have a Qantas Frequent Flyer account. Look out for an email asking if you'd like to join the panel.
Bankwest Qantas Transaction Account
If you're looking to earn Qantas points without a credit card, one great option is the Bankwest Qantas Transaction Account. This account will give you 0.3 Qantas points per day for every $100 in your transaction account. You'll also earn 3 points per eligible transaction. While this isn't as much you'd get if you have a points earning credit card, it's a good option for those of us who prefer to just use debit cards.