I've been using the Qantas Wellbeing app for the last couple of years. Wondering if it's worthwhile downloading Wellbeing? Well here's my Qantas Wellbeing review for 2023:
What is the Qantas Wellbeing App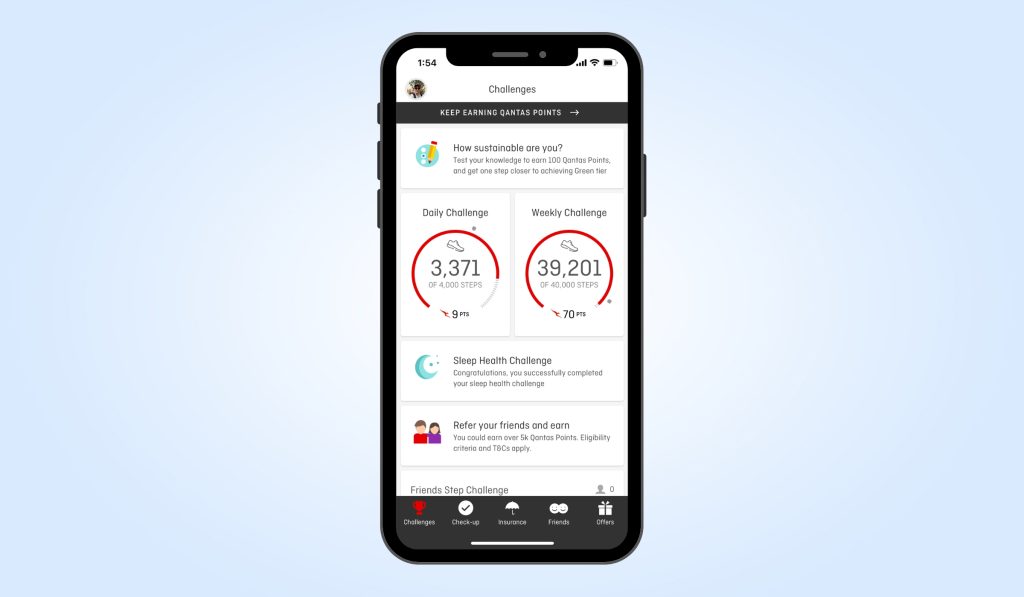 The Qantas Wellbeing App rewards you with Qantas Points for staying active and completing various daily and weekly goals. You can earn points for completing step goals (or other workout type) as well as closing your rings on Apple Watch and getting a good nights sleep.
Basically the more steps you take each day, the more points you can earn.
Is The Qantas Wellbeing App Free?
Using the Qantas Wellbeing App is free. To earn points you need to be a member of the Qantas Frequent Flyer program. Free members earn a limited amount of points. If you take out an insurance policy with Qantas Insurance you will earn more points per day.
How to Earn Qantas Wellbeing Points
You earn Qantas points for doing the following:
Completing a customisable number of steps, cycling km or swimming metres each day. You can choose the activity you prefer.
Completing a Weekly Goal of your chosen activity.
Closing your Rings on the Apple Watch
Competing against your friends
Completing Questionnaires related to health and other insurance topics.
The app connects to Apple Health, Samsung Health or apps like Garmin and Fitbit. So you can use the fitness tracker of your choice. You don't need to keep your phone on you to be credited the steps. They just need to be recorded by a health app.
You can adjust the goal each day as well to maximise the number of points you earn. Obviously you'll earn fewer points for an easier goal. If I know I'm going to be having an active day, I'll boost the goal so I earn more points.
You'll also earn qantas points when you pay for your Qantas Insurance policy.
Is Qantas Wellbeing Worth Using?
If you're a frequent flyer it's worth checking whether a Qantas insurance policy is worth switching to. I wouldn't take out Qantas insurance just to earn more qantas points in the wellbeing app. But if your current policy is similar in price to the Qantas policy it's probably worth looking into. The points you get each day and week do really add up.
If you're not a frequent flyer and have some Qantas points, the Wellbeing app is a great way to stop these points from expiring. Qantas points expire if there has been no activity in your account for 18 months. To keep them from expiring all you need to do is link wellbeing and the points you earn from your steps will keep them active.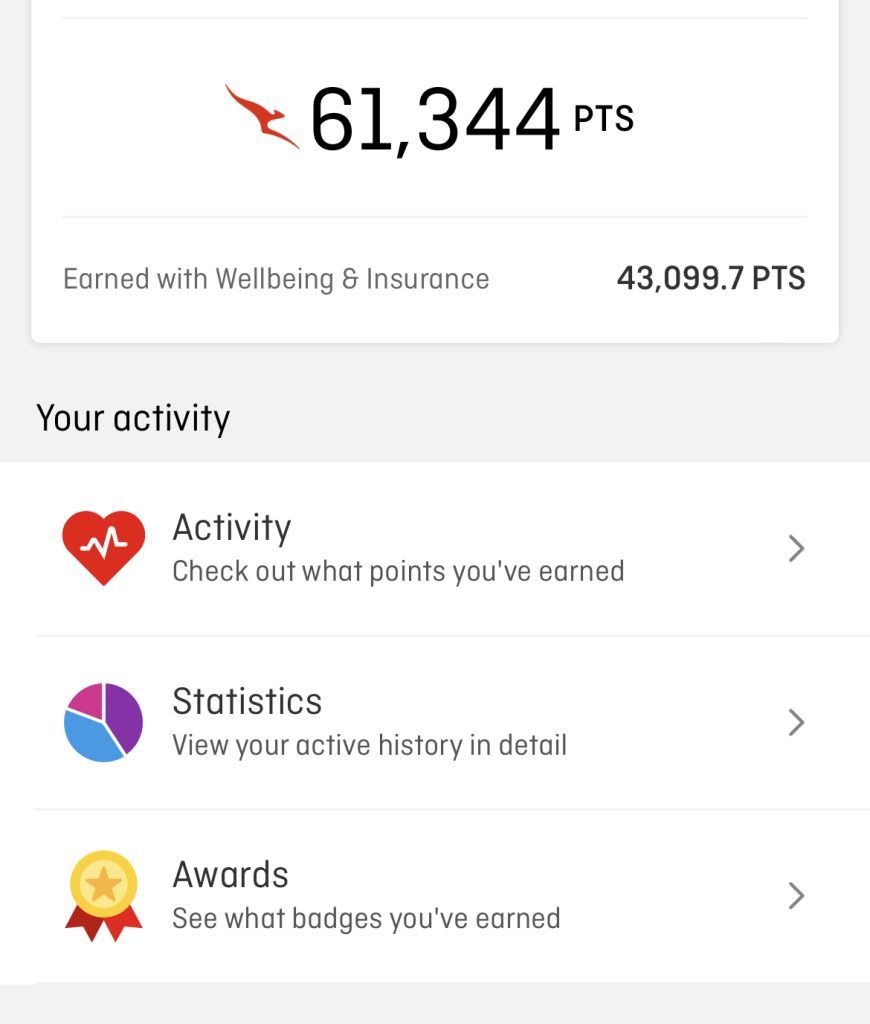 Personally I really like the Wellbeing App. I've been using for the past few years and I've added 10's of thousands of points to my account. I have a pretty sedentary job, so having a little incentive to get up a walk about really works for me. I do have a Qantas health insurance policy which increases the number of points I earn.
There aren't many ways to earn qantas frequent flyer points without spending money. This is one of the few ways! So it's worth downloading the app.
What to Do if the Qantas Wellbeing App is Not Working
Every now and then I've found the Qantas App isn't adding new points. The easiest fix is usually just to open the app! I've found if the app has been closed for a long time, points don't get synced. But once it's open, the app will go back and correctly sync past days and weeks.
If it's still not working check the data sources, which can be found in settings. Make sure the source is still linked (i.e Apple Health). If the Wellbeing app is not working, try deleting the source and adding it again.