Kiwi.com is an online travel agent that specialises in putting together hacked airfares which can end up being cheaper. But is Kiwi.com legit and is it worth booking through. I've booked flights through Kiwi.com before and wanted to share some of the pros and cons of using the site.
How does Kiwi.com Work?
So most online travel agents like Webjet or Bravolfly, will display itineraries offered by airlines and their alliances. What makes Kiwi.com different is they do what is called "Virtual Interlining". Unlike conventional travel agents that typically book tickets through standard airline alliances, Kiwi.com's Virtual Interlining allows travelers to combine flights from non-partnering airlines into a single itinerary.
For example this flight from Canberra to London is made up of different airlines. This itinerary isn't all on the one ticket. You need to separately check into the different flights and you'll need to transfer your baggage. So while it is less convenient it could end up saving you money. It uses what Kiwi calls a "self-transfer hack".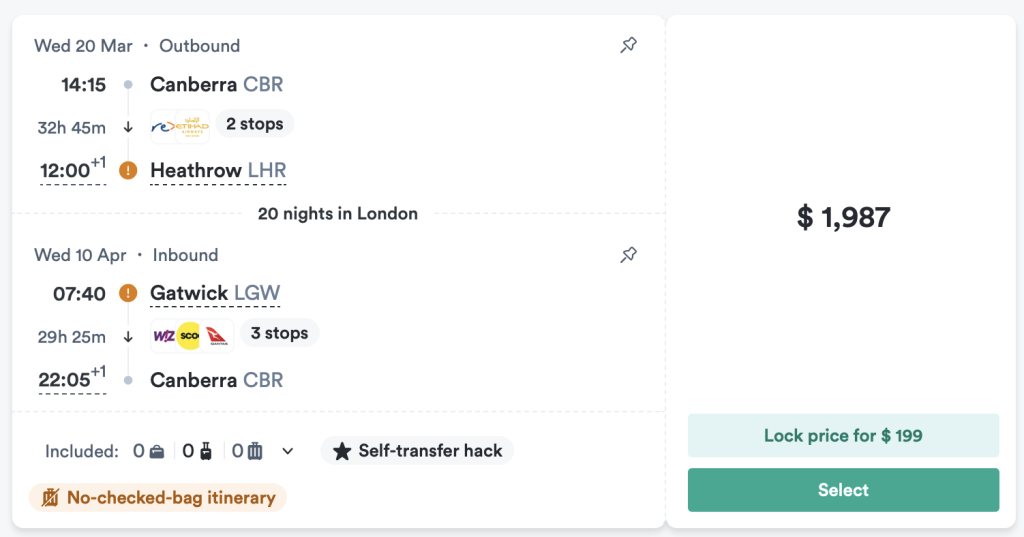 Is Kiwi.com Actually Cheaper?
So I searched for a similar flight on Google Flights and I was able to find a fare fro $1990 – basically the exact same price if I booked directly with Qantas/Emirates. And I wouldn't have all the crazy stops and transfers.
I'm sure it's possible to build "hacked" itineraries through Kiwi.com which are significantly cheaper. But you may need to do some searching.
I always like to search through Google Flights as well just to see if it's cheaper to book direct with the airline on a more convenient itinerary.
Once you add all the optional upgrades using Kiwi.com was more expensive.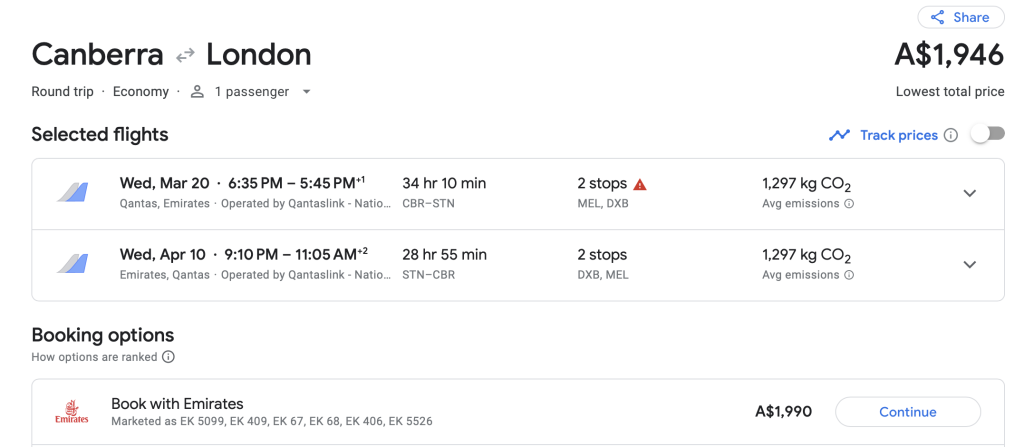 As you can see, booking this flight on the same dates with Emirates was cheaper than Kiwi.com (after adding the kiwi.com optional price guarantee) and the itinerary requires no travel hacks or complex changes.
Cons of Using Kiwi.com
Changes Need to Be Made Through Kiwi.com
Like all Online Travel Agents, changes to the itinerary need to be done through the booking agent. You can't make changes to the flight from the airlines website or by calling them. Many people have issues with this. If it's right before the flight, you can often call the airline and they'll help. But if it's earlier, they'll ask you to contact the travel agent. I haven't had to contact Kiwi.com support, but I have had trouble with other online travel agents getting help.
Travel Hacks Can be Complex
Travel can be stressful enough on its own for some people. If you're booking a flight using travel hacks, you're going to make things more stressful. Most of the itineraries on Kiwi.com require you to self-transfer. This means you'll need to grab your bags when you land, head to the check in counter and check into the new flight. Depending on the airport, you might also need to change terminals (at your own expense).
So before booking a flight on Kiwi.com make sure you research what you'll need to do for each flight.
Missed Connections
I believe the biggest risk of using Kiwi.com is missing a connection. On a regular ticket, if a flight is delayed and you miss the connecting flight, the airline will put you onto another flight. They will cover the cost of this (as long as all the flights are booked on the same ticket).
If you miss a flight booked through Kiwi.com you're basically on your own. You'll have to rebook flights and this could cost you a fortune.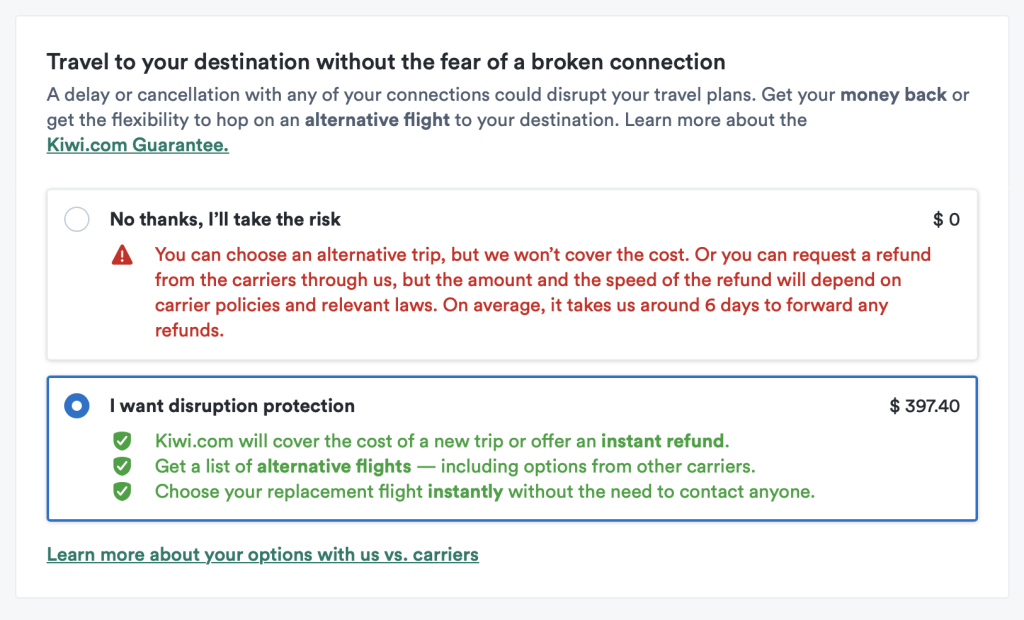 Kiwi.com does offer a Disruption Protection feature. For my flight to London this was an extra $400. They'll give you a refund if you miss a flight. So while this will cover the cost of alternative flights if you miss a connection, the upfront cost makes a Kiwi.com itinerary more expensive than just booking direct with the airline.
Pay for Extra Customer Service
Kiwi.com gives you an option to pay extra for customer support. I'm not a huge fan of online travel agents doing this.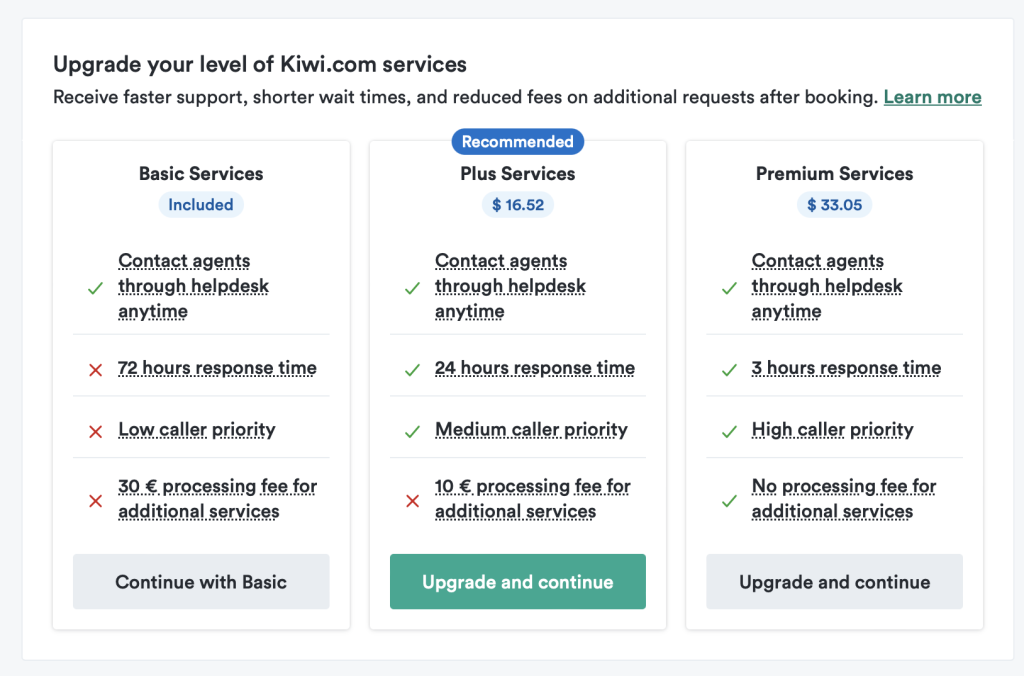 By the time you end up adding the extra support the Kiwi.com ticket ends up being more expensive. If you book direct with the airline, most don't charge for support. And yes, I know airlines are known to have pretty bad customer support but I've always found them easier to deal with compared with online travel agents.
Is Kiwi.com Legit?
Yes Kiwi.com is a legit online travel agent. They are based out of Czechia. If you book flights through them, you will get tickets. It's not a scam. However it doesn't mean it's the best option for booking flights in Australia.
Is it worth Using Kiwi.com in Australia?
I don't think it makes a lot of sense to use Kiwi.com unless you can find a dramatically cheaper flight that isn't too inconvenient. I would recommend getting the Kiwi.com Price Disruption Guarantee which will cover you for missed connections. Since Covid airlines have been less reliable. By the time you add the price disruption guarantee the flight may end up being more expensive then booking a flight direct with the airline and it's probably a better idea to book through them.
Kiwi.com probably works better on flights out of Europe where there are more options with budget airlines. In Australia the only budget airlines are Bonza (which I don't believe can be booked through Kiwi.com) and Jetstar. In Europe there are dozens of budget airlines.
So in summary Kiwi.com doesn't work that well in Australia and will most likely end up being more expensive and less convenient.